La Cour suprême au Royaume-Uni après le Constitutional Reform Act 2005 : une juridiction hors norme
Is the replacement of the Appellate Committee of The House of Lords with a new Supreme Court for the United Kingdom a radical transformation of British constitutionalism or a symbolic reform? Some contributions of the CRA are innovative, but this Act also reveals what already existed at the time of the Appellate Committee of the House of Lords. The CRA confirms and increases convergences with the characteristics of other supreme and constitutional courts. However, it has not erased the peculiar nature of this jurisdiction. As a result, the UK's Supreme Court contributes to the renewal of constitutional justice. It goes beyond the traditional models of constitutional justice and reveals the necessity to think more widely about constitutional justice. After all, the CRA has given rise to an outstanding evolution of the United Kingdom's Constitution which enhances the debate on constitutional justice and constitutionalism.
La transformation de l'Appellate Committee de la Chambre des Lords en Cour suprême par le Constitutional Reform Act de 2005 (CRA) bouleverse-t-elle radicalement le constitutionnalisme britannique ou n'est-elle qu'une réforme symbolique ? Novateur par certains aspects, le CRA est, par d'autres caractéristiques, seulement révélateur de ce qui existait déjà à l'époque de l'Appellate Committee de la Chambre des Lords. Cette loi conforte des convergences déjà existantes entre les caractéristiques de la Cour suprême et celles d'autres juridictions, aussi bien suprêmes que constitutionnelles, mais n'a cependant pas effacé la nature atypique de cette juridiction. L'analyse de la Cour suprême conduit ainsi à dépasser la modélisation des systèmes de justice constitutionnelle et révèle la nécessité d'appréhender plus largement cette notion. La révision constitutionnelle introduite par le CRA témoigne donc d'une évolution remarquable de la Constitution du Royaume-Uni qui enrichit le débat sur la notion de justice constitutionnelle et, plus largement, sur le constitutionnalisme.
Fichier principal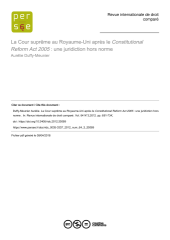 A. Duffy-Meunier_La Cour suprême Royame-Uni_CRA2005_ridc2012.pdf (529.21 Ko)
Télécharger le fichier
Origin : Publisher files allowed on an open archive