COLLEGE OF JUDGES, MARCO THIENE AND HIS NOBLE HOUSE IN THE 16TH CENTURY
Il Collegio dei Giudici, Marco Thiene e la sua casa nel secolo XVI
SODNI KOLEGIJ, MARCO THIENE IN NJEGOVA RODBINA V 16. STOLETJU
The College of Judges played a significant role in the political, institutional and legal world of Vicenza in the modern age. It was composed of legal experts belonging to aristocratic families, who found in this institution the right space to defend the identity, the prerogatives, the privileges and the statutes of the Respublica of Vicenza after the an- nexation to the Venetian State. Old and new families thus found in the College a suitable space to affirm their authority, enhance their status and manage the administrative and judicial affairs of both the city and the territory. In the past, interest has been given to the relations of power within the Vicenza ruling class, but also between the local power and the central power, to the attraction exercised by the courts of Venice among the elites formed in law, to families of recent nobility, to their path and to their alliances with the ancient aristocratic families within the College and the city councils. It is now necessary to consider an ancient aristocratic house that assumed a prestigious role in the Vicenza society and outside of the Venetian Republic, through the examination of the case of Marco Thiene who, in 1599, tried to be admitted to the College. The paper analyses the operation of the corporation, the recruitment criteria, such as the nobilitas (noble lineage), natalia (place of birth), aetas (age), studium (education), and mores (character) of the applicant Marco, as well as the relationship established among the cousins and uncles within the noble house of Thiene.
Il Collegio dei Giudici svolse un ruolo di notevole rilevanza nel mondo politico, istituzio- nale e giuridico di Vicenza in età moderna. Fu composto da esperti del diritto appartenenti a famiglie dell'aristocrazia, le quali trovarono in questa istituzione lo spazio adatto per difendere l'identità, le prerogative, i privilegi e gli statuti della Respublica di Vicenza dopo l'annessione allo Stato veneto. Dopo la disfatta di Agnadello e i successivi eventi bellici fino al 1516, le configurazioni sociali e politiche cambiarono notevolmente a Vicenza, ma la funzione del Collegio rimase quella di rappresentare il potere di un gruppo limitato ed eslusivo di esperti giuridici volti alla difesa degli statuti cittadini nei confronti del patriziato veneziano. Antiche e nuove famiglie trovarono così nel Collegio uno spazio idoneo per af- fermare la loro autorità, esaltare il loro status e gestire gli affari amministrativi e giudiziari sia della città che del territorio. L'interesse è stato prestato, in passato, ai rapporti di forza all'interno del ceto dirigente vicentino, ma pure tra il potere locale e il potere centrale, all'attrazione esercitata dai tribunali di Venezia presso le élite formate nel diritto (giuristi, avvocati, assessori), alle famiglie di recente nobiltà, al loro percorso e alle loro alleanze con le antiche famiglie aristocratiche nell'ambito del Collegio e dei consigli cittadini. Merita ora di essere considerata una antica Casa aristocratica che assunse un ruolo prestigioso nella società vicentina e fuori dai confini della Repubblica veneta, attraverso l'esame del caso di Marco Thiene che, nel 1599, cercò di essere ammesso al Collegio. L'analisi intende cogliere il funzionamento della corporazione, i criteri di reclutamento quali la "nobilitas", i "natalia", l'"aetas", lo "studium", i "mores" dell'impetrante Marco –, e il rapporto stabilitosi all'interno della nobile Casa tra i cugini e gli zii Thiene.
Sodni kolegij je v političnem, institucionalnem in pravnem svetu Vicenze moderne dobe imel pomembno vlogo. Sestavljali so ga pravni strokovnjaki iz aristokratskih družin, ki so v tej instituciji našle ustrezen prostor za zaščito identitete, prerogativ, privilegijev in statutov Vicenške republike po priključitvi k beneški državi. Čeprav se je po porazu pri Agnadellu in vojnih dogodkih, ki so mu sledili do leta 1516, družbena in politična struktura v Vicenzi precej spremenila, je kolegij ohranil vlogo zastopstva moči omejene in ekskluzivistične skupine pravnih strokovnjakov, katerih cilj je bil ščititi mestne statute v odnosu do beneških patricijev. Stare in nove družine so tako v kolegiju našle primerno okolje za potrjevanje svoje avtoritete, povzdigovanje svojega družbenega statusa ter ure- janje administrativnih in sodnih zadev tako mesta kot širšega ozemlja Vicenze. Doslej so zgodovinarji namenjali pozornost razmerju moči znotraj vodilnega vicenškega razreda ter med lokalnimi in centralnimi oblastmi, privlačnosti beneških sodišč za pravno elito (juriste, advokate, prisednike) ter mlajšim aristokratskim družinam, njihovi poti in za- vezništvom s starejšimi plemiškimi družinami znotraj kolegija in mestnih svetov. Prav bi bilo, da se zdaj posvetimo eni od starih aristokratskih rodbin, ki je prevzela ugledno vlogo v vicenški družbi in tudi izven meja Beneške republike, in sicer z obravnavo primera Marca Thiena, ki si je leta 1599 prizadeval za vstop v kolegij. Članek analizira delovanje združenja, kriterije za sprejem – nobilitas (plemiško poreklo), natalia (kraj rojstva), aetas (starost), studium (izobrazba) in mores (značaj) prosilca Marca – in odnos, ki se je vzpostavil med bratranci in strici znotraj plemiške rodbine Thiene.
Fichier principal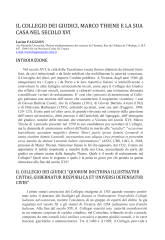 AH_27-2019-4_FAGGION_Collegio_Giudici_Marco_Thiene_e_sua_Casa_Post-Print.pdf (393.27 Ko)
Télécharger le fichier
Origin : Files produced by the author(s)