Argumenter a fortiori en droit
The argumentation a fortiori is a form of argumentation often overlooked in legal studies. Nevertheless, this technique is extremely used in the legal practice. This article is intended to overcome the lack of the writings on the subject and offers an insight of the wide ranges of the arguments a fortiori whose study allows a better understanding of the operation and the specificities of the legal argumentation. Then, it appears that if the particular formal nature of argumentation a fortiori gives it a superior force of conviction compared to other types of argumentation, its refutation is still possible. Indeed, it is made possible by the dialectical nature of the legal context in which it operates.
L'a fortiori est une forme d'argumentation délaissée par les études juridiques. L'étude de la jurisprudence révèle pourtant que son usage est extrêmement fréquent. Le présent article contribue à remédier au manque d'écrits sur le sujet et dévoile la richesse des argumentations a fortiori dont l'étude permet de mieux comprendre le fonctionnement et les spécificités du raisonnement juridique. Il ressort de cette étude que si la nature formelle particulière de l'argumentation a fortiori lui confère une force supérieure par rapport à d'autres types d'argumentation, sa réfutation demeure toujours possible en raison du contexte juridique, de nature dialectique, dans lequel il s'inscrit.
Fichier principal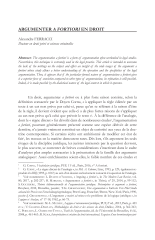 Argumenter a fortiori en droit A. FERRACCI-3-37.pdf (505.84 Ko)
Télécharger le fichier
Origin : Files produced by the author(s)