« Saturne et l'orphelin : les relations familiales dans le cycle « Isaac Sidel » de Jerome Charyn »
This article focuses on the theme of the family, and more particularly on the figure of the orphan, in the first volumes of Jerome Charyn's detective series (the Isaac Sidel cycle). All of Charyn's work explores his own family origins, which allows him to write a vast autobiographical fresco that he superimposes on the history of New York since the beginning of the twentieth century, revisiting the great period of Jewish immigration from Eastern Europe, the construction of modern New York and the establishment of multiple social and criminal systems. In his police saga, Charyn develops several networks of links bringing together his characters, the common thread being Commissioner Sidel himself, a pathetic and ogre-like paternal figure who reigns over his family as well as over his men or his recurring enemies like a hallucinated Saturn obsessed with an orphan whom he once broke. The figure of the lonely orphan still embodies the Melvillian dream of new human relationships, fraternal ones, a dream which Isaac Sidel, faithful to his contradictions, both pursues and annihilates.
Cet article se propose d'étudier le thème de la famille, et plus particulièrement la figure de l'orphelin, dans les premiers volumes de la série policière de Jerome Charyn (le cycle Isaac Sidel). Toute l'œuvre de Charyn explore ses propres origines familiales, ce qui lui permet d'écrire une vaste fresque autobiographique qui se superpose à l'histoire de New York depuis le début XXe siècle, revisitant ainsi la grande période de l'immigration des juifs d'Europe de l'est, la construction du New York moderne et la mise en place de multiples systèmes sociaux et criminels. Dans sa saga policière, Charyn développe plusieurs réseaux de liens connectant ses personnages dont le point commun est le commissaire Sidel lui-même, figure paternelle tantôt pathétique tantôt ogresque qui règne tant sur sa famille que sur ses hommes ou ses ennemis récurrents, en Saturne halluciné obsédé par un orphelin qu'il a autrefois brisé. Dans la figure de l'orphelin esseulé survit le rêve melvillien de nouveaux rapports humains, fraternels, un rêve qu'Isaac Sidel, fidèle à ses contradictions, poursuit et anéantit tour à tour.
Fichier principal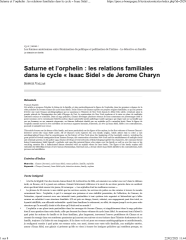 S_Vallas_TextesContextes_15-2DEF.pdf (296.59 Ko)
Télécharger le fichier
Origin : Explicit agreement for this submission