Complément à la connaissance de la flore vasculaire de l'île Gargalu (Réserve naturelle de Scàndula, Corse occidentale)
This contribution lists the vascular plants observed on Gargalu Island (Western Corsica), a site classified as an integral reserve within the Scàndula Nature Reserve, following a field trip carried out in October 2020. Eleven native taxa not previously reported on the island were discovered. The floristic assessment of the last two missions (2014 and 2020) includes 152 indigenous taxa (species and subspecies) which were recently inventoried on the island, including 107 taxa as part of the mission of October 2020. At the scale of the site of the Gulf of Porto listed as a UNESCO World Heritage Site, Gargalu is the most interesting island from a phytogeographic point of view, including 19 taxa with restricted distribution mainly Corsican endemics, and 12 other plant species that are rare or localized in Corsica.
Cette contribution dresse la liste des végétaux vasculaires observés sur l'île Gargalu (Corse occidentale), site classé en réserve intégrale au sein de la Réserve naturelle de Scàndula, suite à une mission effectuée en octobre 2020. Onze taxons indigènes non signalés jusqu'alors sur l'île ont été découverts. En considérant le bilan floristique des deux dernières missions (2014 et 2020), 152 taxons indigènes (espèces et sous-espèces) ont été inventoriés récemment sur l'île dont 107 dans le cadre de la mission d'octobre 2020. À l'échelle du site du golfe de Porto inscrit au Patrimoine mondial de l'UNESCO, Gargalu est l'île la plus intéressante sur le plan phytogéographique, avec 19 taxons à distribution restreinte dont de nombreux endémiques corses et 12 autres espèces végétales rares ou localisées en Corse.
Fichier principal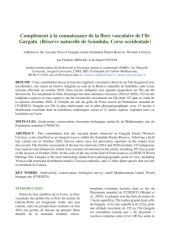 Médail et al J. Bot. Soc. Bot. France 2021.pdf (1.62 Mo)
Télécharger le fichier
Origin : Files produced by the author(s)