Pierre Gringore dans et hors de Notre-Dame de Paris
In « Notre-Dame de Paris », Victor Hugo helps his readers discover the end of the Middle Ages. In 1482, during the last year of Louis XI's reign, la Esmeralda's and Quasimodo's adventures take place, but also those of Pierre Gringoire. In this atmosphere of historical and political changes – echoing that of the 1830s, Gringoire is the only one among the main characters, to have an alter ego, clearly identified in real life. To create this ridiculous but talented poet, poor but pretentious, coward but inventive, Victor Hugo freely drew his inspiration from Pierre Gringore. Active during a transition period, between the Middle Ages and the Renaissance, Pierre Gringore has a lot in common with his fictional double, so that the poet's activities, life and literary works provide as much information on the character's as the character does on the analysis of the author's work.
Dans Notre-Dame de Paris, Victor Hugo fait découvrir la fin du Moyen Âge à ses lecteurs. C'est en 1482, dernière année de règne de Louis XI, qu'ont lieu les aventures de la Esmeralda, de Quasimodo, mais aussi de Pierre Gringoire. Dans cette atmosphère de mutation historique et politique qui fait écho à celle des années 1830, Gringoire est le seul des protagonistes principaux à avoir un alter ego clairement identifiable dans la réalité. Pour créer ce poète ridicule mais talentueux, pauvre mais prétentieux, lâche mais ingénieux, Victor Hugo s'inspire librement de Pierre Gringore. Également actif durant une période de transition, entre Moyen Âge et Renaissance, il a de nombreux points communs avec son homologue fictionnel, de sorte que les activités, la vie et les textes de l'auteur renseignent ceux du personnage autant que le personnage enrichit l'analyse de l'œuvre de l'auteur.
Fichier principal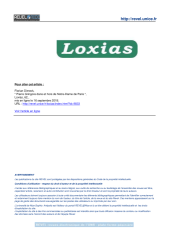 Florian Dimeck - Pierre Gringore dans et hors de Notre-Dame de Paris - Loxias 62.pdf (214.39 Ko)
Télécharger le fichier
Origin : Files produced by the author(s)