Rafael del Riego in the poetry of the occasion of the Liberal Triennate
Rafael del Riego en la poesía de circunstancia del Trienio liberal
Rafael del Riego dans la poésie de circonstance du Triennat libéral
In 1820, with the Cadix Constitution being re-established, politics invaded all fields, including poetry. Many verses written then have since disappeared. But those that can be recovered have great value for understanding the evolution of a public opinion they intended to craft, and they in fact reflected. Poems dedicated to Riego, who in the course of four years fell from grace to the scaffold, are particularly meaningful from that point of view. They permit to see how the general's followers elaborated a highly efficient public relations system which quickly owned him the huge popularity he experimented whereas, even before the reestablishment of Ferdinand VII as an absolute monarch, in 1823, serviles charged him with all imaginable crimes, and called not only for him to be executed, but for his body to be skinned.
En 1820, con el restablecimiento de la Constitución de Cádiz, la política invade todos los espacios, y especialmente la poesía. Numerosos versos compuestos en aquella época han desaparecido. Pero los que podemos rastrear son sin embargo muy útiles para apreciar la evolución de la opinión pública que pretendían formar y de la que eran el reflejo. Los poemas consagrados a Riego, que en cuatro años pasó del pináculo al cadalso, son especialmente significativos desde este punto de vista. Permiten apreciar, entre otras cosas, cómo el entorno del general puso en marcha un sistema de comunicación sumamente eficaz que le permitió alcanzar rapidísimamente una inmensa popularidad, mientras que, en 1823, antes siquiera del restablecimiento de Fernando VII como soberano absoluto, los serviles le acusaron de todos los crímenes y exigieron para el él no solo la pena capital, sino que su cuerpo fuera descuartizado.
En 1820, avec le rétablissement de la Constitution de Cadix, la politique envahit tous les espaces, et notamment la poésie. Bon nombre des vers composés à cette période ont disparu. Mais ceux que l'on peut retrouver sont toutefois fort précieux pour juger de l'évolution de l'opinion publique qu'ils entendaient former et qu'en fait ils reflétaient. Les poèmes consacrés à Riego, qui en quatre ans passa du pinacle à l'échafaud, sont particulièrement significatifs de ce point de vue. Ils permettent de voir, notamment, comment l'entourage du général mit en place un très efficace système de communication qui lui valut très vite l'immense popularité qu'il connut tandis que, avant même le rétablissement de Ferdinand VII comme souverain absolu, en 1823, les serviles l'accusèrent de tous les crimes et exigèrent pour lui non seulement la peine capitale mais que son corps fut dépecé.
Fichier principal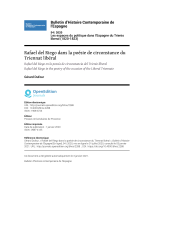 bhce-2288.pdf (253.01 Ko)
Télécharger le fichier
Origin : Publisher files allowed on an open archive