Is High-Intensity Interval Training Suitable to Promote Neuroplasticity and Cognitive Functions after Stroke?
Stroke-induced cognitive impairments affect the long-term quality of life. High-intensity interval training (HIIT) is now considered a promising strategy to enhance cognitive functions. This review is designed to examine the role of HIIT in promoting neuroplasticity processes and/or cognitive functions after stroke. The various methodological limitations related to the clinical relevance of studies on the exercise recommendations in individuals with stroke are first discussed. Then, the relevance of HIIT in improving neurotrophic factors expression, neurogenesis and synaptic plasticity is debated in both stroke and healthy individuals (humans and rodents). Moreover, HIIT may have a preventive role on stroke severity, as found in rodents. The potential role of HIIT in stroke rehabilitation is reinforced by findings showing its powerful neurogenic effect that might potentiate cognitive benefits induced by cognitive tasks. In addition, the clinical role of neuroplasticity observed in each hemisphere needs to be clarified by coupling more frequently to cellular/molecular measurements and behavioral testing.
Les déficiences cognitives induites par un AVC affectent la qualité de vie à long terme. L'entraînement par intervalles à haute intensité (HIIT) est désormais considéré comme une stratégie prometteuse pour améliorer les fonctions cognitives. Cette revue a pour but d'examiner le rôle de l'HIIT dans la promotion des processus de neuroplasticité et/ou des fonctions cognitives après un AVC. Les diverses limites méthodologiques liées à la pertinence clinique des études sur les recommandations en matière d'exercice chez les personnes ayant subi un AVC sont d'abord abordées. Ensuite, la pertinence de l'HIIT dans l'amélioration de l'expression des facteurs neurotrophiques, de la neurogenèse et de la plasticité synaptique est débattue à la fois chez les individus victimes d'un AVC et chez les individus sains (humains et rongeurs). En outre, l'HIIT pourrait avoir un rôle préventif sur la gravité de l'AVC, comme cela a été constaté chez les rongeurs. Le rôle potentiel de l'HIIT dans la réadaptation après un accident vasculaire cérébral est renforcé par les résultats montrant son puissant effet neurogène qui pourrait potentialiser les bénéfices cognitifs induits par les tâches cognitives. En outre, le rôle clinique de la neuroplasticité observée dans chaque hémisphère doit être clarifié en associant plus fréquemment des mesures cellulaires/moléculaires et des tests comportementaux.
Fichier principal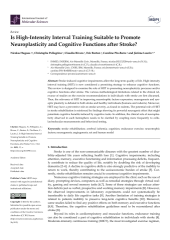 hugues et al 2021.pdf (1.46 Mo)
Télécharger le fichier
Origin : Publisher files allowed on an open archive