Book Sections
Year : 2021
Appendix A to Chapter 1 Introduction
Fichier principal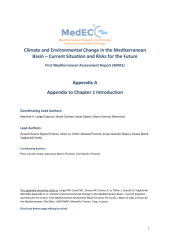 MedECC_MAR1_Appendix_A.pdf (170.97 Ko)
Télécharger le fichier
Origin : Explicit agreement for this submission
Dates and versions
Identifiers
HAL Id :

hal-03210197 , version 1
Cite
Manfred A. Lange, Maria Carmen Llasat, Maria Snoussi, Arnault Graves, Julien Le Tellier, et al.. Appendix A to Chapter 1 Introduction. Cramer W, Guiot J, Marini K.
Climate and Environmental Change in the Mediterranean Basin – Current Situation and Risks for the Future
,
Union for the Mediterranean, Plan Bleu, UNEP/MAP, Marseille, France
, pp.589-598, 2021, 978-2-9577416-0-1.
⟨hal-03210197v1⟩