Traducendo e rifacendo Orazio. Percorsi oraziani nella scrittura di Fortini
The article analyses the different ways in which Fortini deals with Horace's poems. Firstly, the analysis focuses on Fortini's essays and his distinction between «translation» and «rewriting». In his translations, a strong respect for the semantic content emerges. Nevertheless, Fortini innovates syntactic forms to preserve his own style. In his rewritings, Two modes are identified: a thematic-textual influence in his first works (Fortini reworks Horace's themes and quotes) and a linguistic-formal influence since the 1970s (Fortini's reworks Horace's formal models with new contents). In conclusion, the essay affirms that Fortini's translations can be placed on the thematic-textual axis. On the contrary, his most experimental rewriting (a homophonic translation) coincides with a paroxysmal exasperation of the linguistic-formal axis.
Nell'articolo si esaminano le diverse maniere con cui Fortini rielabora alcuni testi del poeta latino Orazio. Si stabiliscono le coordinate teoriche di Fortini, nello specifico la contrapposizione fra «traduzioni» e «rifacimenti». Si esaminano quindi le traduzioni, constatando che pur nel rispetto semantico il poeta non rinuncia a rimodulare la sintassi secondo il proprio stile. Si analizzano in seguito vari rifacimenti oraziani, mettendo in luce due modalità di riscrittura. Si tratta, dapprima, di un influsso tematico-testuale (rielaborazione di un tema e di una citazione) e successivamente, a partire dagli anni Settanta, di un influsso linguistico-formale (ripresa di un modello formale o testuale, del tutto stravolto nei contenuti). Si conclude osservando che le vere e proprie traduzioni si pongono lungo l'asse della linea di riscrittura tematico-testuale, mentre l'ultimo e più sperimentalistico dei rifacimenti (traduzione omofonica), può essere interpretato come esasperazione parossistica della riscrittura linguistico-formale.
Fichier principal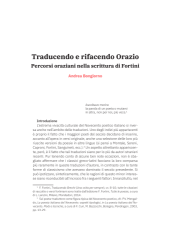 9.28.-BONGIORNO-Traducendo-e-rifacendo-Orazio-2.pdf (245.44 Ko)
Télécharger le fichier
Origin : Publisher files allowed on an open archive