Le palimpseste didactique
Our paper focuses on the results of research conducted between 2017 and 2019 on the professional practices of school-based music practitioners. Based on data collected from teachers on the planning, realization and evaluation of their action, we hypothesized that teaching or learning practices depend on several environments within a didactic environment (Amade-Escot, Venturini, 2009). It appeared to us that these are different layers of milieu that interact with each other, counteract activities, and create a didactic palimpsest (Terrien, 2015, 2017). We studied the actions that do not fail to constrain the didactic milieu and that modify the teacher's intervention with learners. The analysis of these actions allow us to deepen the evaluation of the activities carried out during the session. The methodology of this study is based on the analysis of the teachers' written preparations, the analysis of the video of the sessions, semi-directive interviews (ante) and self-confrontation (post) based on the videos. These interviews are the subject of a semantic analysis (Greimas, 1966; Prieto, 1975; Lebahar, 1995) allowing the real of the teachers' activity to emerge, and thus to better understand what may have prevented them from acting.
Notre communication porte sur les résultats d'une recherche réalisées entre 2017 et 2019 sur les pratiques professionnelles des musiciens intervenants à l'école. A partir de données collectées auprès des professeurs sur la planification, la réalisation et l'évaluation de leur action, nous avons posé l'hypothèse que les pratiques enseignantes ou apprenantes dépendent de plusieurs milieux au sein d'un milieu didactique (Amade-Escot, Venturini, 2009). Il nous est apparu qu'il s'agit de différentes strates de milieu qui interagissent entre elles, contrarient les activités, et créent un palimpseste didactique (Terrien, 2015, 2017). Nous avons étudié les actions qui ne manquent pas de contraindre le milieu didactique et qui modifient l'intervention de l'enseignant auprès des apprenants. L'analyse de ces actions permettent d'approfondir l'évaluation des activités réalisées lors de la séance. La méthodologie de cette étude repose sur l'analyse des préparations écrites des enseignants, celle a priori des vidéo des séances, des entretiens semi-directifs (ante) et d'autoconfrontation (post) à partir des vidéos. Ces entretiens font l'objet d'une analyse sémantique (Greimas, 1966 ; Prieto, 1975 ; Lebahar, 1995) permettant de faire émerger le réel de l'activité des enseignants, et ainsi de mieux comprendre ce qui a pu l'empêcher d'agir.
Fichier principal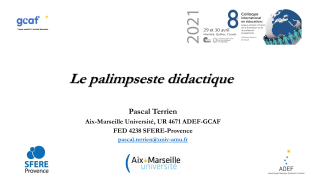 21.04.30 Palimpseste et travail de l'enseignant.pdf (673.64 Ko)
Télécharger le fichier
Origin : Files produced by the author(s)