Le silence, entre oubli et choix, autant de clefs dans l'évolution des langues (Estelle Variot - MCF [MCF HDR en octobre 2017])
Silence is a frame that has a link with thought and the origin of language which illustrates a precise state of the language. The original source of silence and its corollary represented, with some shades, by word or speech, refer to the way in which human hierarchical society works while it has established, in time, all sorts of rules in order to organize its progression and its general evolution. Obviously, however, language fragmentation has created some characteristics that are more or less convergent or divergent, in languages that get in touch nowadays and, particularly, in Romance languages. Numerous discussions have illustrated language and the parts of speech which have derived from it in time ; those remain completely actual, due to the proper existence of some rules and of exceptions which mark out our linguistic universes. Whether it is motivated by the author's will or it is the result of an unconsidered choice, it has an impact on our languages and on their evolutions ; and linguists have always had to take it into consideration, in order to embellish and to maintain harmony. In such a context that goes throughout centuries, taking some extracts, in French or in Romanian, will permit us to display this phenomenon which is so enriching and important for keeping our linguistics particularities.
Le silence est un état en lien avec la pensée et les origines du langage qui illustre aussi un stade précis de la langue. La source originelle du silence et son corollaire, représenté, avec certaines nuances, par la parole ou le verbe, renvoient au mode de fonctionnement même de la société humaine hiérarchisée qui s'est érigée, au cours du temps, des règles de tout type, de façon à organiser sa marche et son évolution générale. Il va sans dire que, néanmoins, la fragmentation du langage a induit des particularités qui se retrouvent à des degrés divers de convergences et de divergences, dans les langues qui se côtoient aujourd'hui et, en particulier, dans les langues romanes. Bien des débats ont illustré le langage et les parties du discours qui en résultent au cours des siècles ; ceux-ci conservent toute leur actualité, par l'existence même de règles et d'exceptions qui jalonnent nos univers linguistiques. Qu'il soit motivé par la volonté de son auteur ou qu'il se produise sans être mû par un choix réfléchi, il a un impact sur nos langues et sur leurs évolutions ; et les linguistes, de tout temps, ont dû tenir compte de lui, pour agrémenter la langue et pour maintenir son harmonie. Dans un tel contexte qui se perpétue au fil des siècles, le recours à différents fragments, en français et en roumain, permettront d'éclairer ce phénomène ô combien enrichissant et primordial pour la conservation de nos spécificités linguistiques.
Fichier principal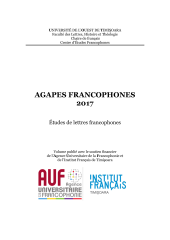 IIB45AF_EVariotLe silence.pdf (1 Mo)
Télécharger le fichier
Origin : Explicit agreement for this submission