Évolution du statut braf dans le melanome : mythe ou Réalité ?
Knowledge of the BRAF mutational status has become essential for melanoma therapeutic management. B-Raf inhibitors are associated with significant overall survival in patients with BRAFV600-mutated metastatic melanoma. Although the BRAF mutation appears to be an early and driver mutation, some authors hypothesized that its expression was not stable during melanoma progression, suggesting a molecular heterogeneity. This argument is often used to explain discrepancy in molecular status among patients with melanoma, discrepancies that we occasionally met during our practice. We retrospectively compared BRAF mutational status on matched melanoma samples (primary & metastatic lesions), thus 150 samples from 56 patients were analysed through immunohistochemistry anti-BRAF, PCR-HRM and Sanger sequencing, Next Generation Sequencing (NGS) and digital PCR. Seven cases presented an apparent tumor heterogeneity. The analysis of these discrepancies by a technique of increasing sensitivity made it possible to identify 1 false-negative result for the immunohistochemistry, 1 false-negative result for the NGS sequencing and 5 (3%) false-negative results by PCR-HRM SANGER. Our results are consistent with the most recent data, demonstrating the stability of the BRAF mutation during the course of melanoma. Immunohistochemistry shows excellent sensitivity for detecting the main BRAF mutation. In our study, the mutational heterogeneity was actually misleading, a result of imperfect sensitivity of some older molecular approaches.
La connaissance du statut mutationnel du gène BRAF est devenue essentielle dans la prise en charge du mélanome. Les inhibiteurs de B-Raf sont à l'origine d'une nette amélioration de la survie globale chez les patients présentant un mélanome métastatique muté BRAF V600. Bien que la mutation BRAF soit considérée comme un événement précoce et conducteur (driver), certains travaux ont émis l'hypothèse qu'elle n'était pas stable lors de l'évolution d'un mélanome, impliquant une hétérogénéité moléculaire. Cet argument est souvent utilisé pour expliquer les discordances de statut moléculaire observées chez certains patients atteints de mélanome, discordances occasionnellement rencontrées au cours de notre pratique. Nous avons rétrospectivement comparé le statut mutationnel du gène BRAF sur plusieurs prélèvements appariés de mélanome (primitif & localisations secondaires), soit 150 prélèvements pour 56 patients, en utilisant l'immunohistochimie anti-BRAF, la PCR-HRM et séquençage Sanger, le séquençage massivement parallèle (NGS) et la PCR digitale. Sept cas présentaient une apparente hétérogénéité tumorale. L'analyse de ces discordances par une technique de sensibilité croissante a permis d'identifier 1 résultat faux-négatif pour l'immunohistochimie, 1 résultat faux-négatif pour le séquençage NGS et 5 (3 %) résultats faux-négatifs par technique PCR-HRM SANGER. Nos résultats sont cohérents avec les données les plus récentes, témoignant de la stabilité de la mutation BRAF au cours de l'évolution d'un mélanome. L'immunohistochimie présente une sensibilité excellente pour détecter la mutation majoritaire de BRAF. Dans notre étude, l'hétérogénéité mutationnelle était en réalité factice, conséquence d'une sensibilité imparfaite de certaines approches moléculaires plus anciennes.
Fichier principal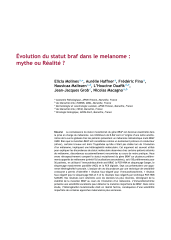 BRAFMacagno.pdf (917.7 Ko)
Télécharger le fichier
Origin : Files produced by the author(s)