« I progetti federalisti del Borgese americano: utopie conservatrici e di matrice religiosa », in Aix Marseille Université, Italies, n. XXV, Utopies, 2021, p. 91-106.
Antifasciste, critique littéraire et auteur du roman à succès Rubè (1921), Giuseppe Antonio Borgese émigre aux États-Unis en 1931. Là, peu à peu ses intérêts culturels changent. Après avoir milité dans les rangs interventionnistes en 1914-1915, après avoir eu un rôle-clé dans les choix de la politique extérieure du Corriere della Sera pendant la période 1916-1918, et après avoir été ébranlé par l'expérience du nazi-fascisme et par l'utilisation de la bombe atomique, Borgese s'oriente avec une abnégation farouche vers la rédaction d'une constitution pour un gouvernement fédéral mondial. Son objectif est la paix des nations.  À Chicago, il est le leader de deux groupes fédéralistes-pacifistes auxquels participent surtout des intellectuels américains ou ayant émigré aux États-Unis. À la fin des années 1940, une de ces deux expériences aboutit à la rédaction d'une constitution fédérale mondiale, les Preliminary Drafts of a World Constitution.
Antifascista, critico letterario e autore del romanzo di successo Rubè (1921), Giuseppe Antonio Borgese emigra negli Stati Uniti nel 1931. Qui un po' alla volta i suoi interessi culturali cambiano. Dopo aver militato nelle file interventiste nel 1914-1915, dopo aver avuto un ruolo chiave nelle scelte della linea politica estera del Corriere della Sera nel biennio 1916-1918, e dopo essere stato scosso dall'esperienza del nazi-fascismo e dall'uso della bomba atomica, Borgese si orienta con strenua abnegazione verso la stesura di una costituzione per un governo federale mondiale. Il suo obiettivo quello di portare la pace tra le nazioni. A Chicago il leader di due gruppi federalisti-pacifisti cui partecipano soprattutto intellettuali americani o emigrati negli Stati Uniti. Alla fine degli anni 1940, una di queste due esperienze approda alla stesura di una costituzione federale mondiale, i Preliminary Drafts of a World Constitution.
Fichier principal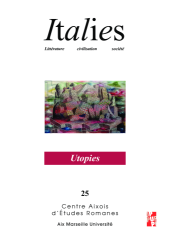 Magni_Italies25Utopies.pdf (1.12 Mo)
Télécharger le fichier
Origin : Publisher files allowed on an open archive