Déclinaisons du faux dans La literatura nazi en América de Roberto Bolaño : une initiation au soupçon
Roberto Bolaño's La literatura nazi en América (1996) is probably the work that shows most explicitly the Chilean writer's relation with the fake. The book looks like an anthology, but hides, in fact, a whole metaphorical world and its genealogy of "monsters". In a rather provocative way, Roberto Bolaño questions the responsibility of writers in their perpetual quest for novelty: what is the place left to impertinence in literature? To examine the links between fiction and the fake is nearly a tautology, but what about the reader and the process of reception? In Bolaño's novel, the erroneous practices of several characters, artists and readers, seem to paradoxically illustrate the critical and playful necessity of seeking meaning in absentia.
La literatura nazi en América (1996) de Roberto Bolaño est sans doute l'ouvrage de l'écrivain chilien dans lequel se manifeste le plus explicitement son rapport au faux. Sous ses airs d'anthologie, l'ouvrage désignerait en fait un monde métaphorique et sa généalogie de « monstres ». De manière provocatrice, Roberto Bolaño semble interroger la responsabilité de l'écrivain dans sa quête perpétuelle de nouveauté, en se demandant jusqu'où peut s'exprimer l'impertinence en littérature. Interroger le rapport au faux de la fiction relève presque de la tautologie. En revanche, qu'en est-il du lecteur et du processus de réception ? Dans le roman, les mésusages des personnages d'artistes et de lecteurs semblent illustrer, par une sorte de raisonnement a contrario, la nécessité critique et ludique de toujours chercher le sens en absence.
Fichier principal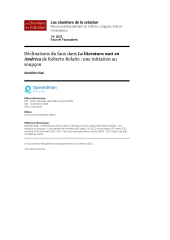 NIATI - Déclinaisons du faux - Les Chantiers de la création 2022 (1).pdf (242.4 Ko)
Télécharger le fichier
Origin : Publisher files allowed on an open archive