Text und Bild in der Analyse der geographischen Landschaft
Text and image in the analysis of the geographical landscape
Texto e imagen en el análisis del paisaje geográfico
Le texte et l'image dans l'analyse du paysage géographique
In der "statistischen Einleitung" seines Buches "Paysans de Normandie" erzählt Armand Frémont von der Fahrradtour von Vater B. rund um sein Dorf: Dieser Weg, der durch das Wissen des Autors über alle Fragen, die im Kopf des alten Bauern auftauchen können, erläutert wird, zeichnet für den Leser eine textualisierte "geografische Landschaft". Diese Versprachlichung der Landschaft findet nach der Recherche statt, wenn die Ergebnisse weitergegeben werden. Kann der geografische Text durch eine Zeichnung im Stil einer Panoramaskizze übersetzt werden? Kann umgekehrt eine Panoramaskizze eines Geländes geographisch verstanden und in Worte gefasst werden, die mit Fragen oder besser mit einer Erklärung beladen sind? Dies sind die Fragestellungen dieses Artikels.
In the "statistical introduction" to his book "Paysans de Normandie", Armand Frémont recounts Father B.'s bicycle ride around his village: this journey, explained by what the author knows about all the questions that may arise in the mind of the old farmer, draws a textualized "geographical landscape" for the reader. This putting into words of the landscape occurs after the research, at the time of the transmission of the results. Can the geographical text be translated into a panoramic drawing? Conversely, can a panoramic field sketch be understood geographically and put into words that are full of questions or, better, an explanation? These are the questions of this article.
En la "introducción estadística" de su libro "Paysans de Normandie", Armand Frémont relata el paseo en bicicleta del padre B. por su pueblo: este recorrido, explicado por lo que el autor sabe de todas las cuestiones que pueden surgir en la mente del viejo campesino, dibuja un "paisaje geográfico" textualizado para el lector. Esta puesta en palabras del paisaje tiene lugar después de la investigación, cuando se transmiten los resultados. ¿Se puede traducir el texto geográfico en un dibujo panorámico? A la inversa, ¿se puede entender geográficamente un croquis de campo panorámico y ponerlo en palabras llenas de preguntas o, mejor aún, una explicación? Estas son las cuestiones que se plantean en este artículo.
Dans l'« introduction statistique » de son ouvrage « Paysans de Normandie », Armand Frémont, raconte la promenade à bicyclette du père B. autour de son village : ce cheminement, explicité par ce que l'auteur sait de toutes les questions qui peuvent surgir dans l'esprit du vieux paysan, dessine pour le lecteur un « paysage géographique » textualisé. Cette mise en mots du paysage intervient après la recherche, au moment de la transmission des résultats. Le texte géographique peut-il être traduit par un dessin de type panoramique ? A l'inverse, un croquis panoramique de terrain peut-il être compris géographiquement et mis en mots chargés d'interrogations ou mieux d'une explication ? Ce sont les questionnements de cet article.
Fichier principal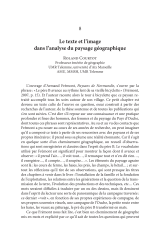 ouvrage_Fremont roland courtot.pdf (697.17 Ko)
Télécharger le fichier
Origin : Explicit agreement for this submission