"This Day is not for you": The Commemorative Displacement of Black Wars in White Australia.
This book chapter explores the contested presence of the memory of the "Frontier or Black Wars" on the margins of Anzac Day commemorations. Its authors identify three phases in the construction of the memorial landscape which see the narrative of frontier violence and massacres progressively fill the gap in collective memory, impelling a "duty to remember" amongst Indigenous campaigners and in the work of artists like Amala Groom, and a growing clamour for the recognition of the Frontier Wars by the council of The Australian War Memorial in Canberra. We retrace the recovery of this dislocated memory in the wake of the movement for reconciliation and the fault lines it has exposed in official commemorative discourse, opening an "alternative space » in the Foucauldian sense of the term which threatens to undermine the hegemony of ANZAC war memory.
Ce chapitre explore l'exclusion de la mémoire des « Black Wars » de l'espace des commémorations officielles d'Anzac Day. Les auteurs identifient trois phases dans la construction du paysage mémoriel qui voient le récit des violences et massacres émerger progressivement du trou de la mémoire nationale pour faire l'objet d'une revendication d'un « droit de mémoire » dont des acteurs aborigènes tels que l'artiste Amala Groom sont devenus les principaux porteurs et qui frôle désormais les hauts lieux de l'espace commémoratif jusqu'aux portes de The Australian War Memorial à Canberra. Nous retraçons la récupération de cette mémoire disloquée dans la foulée du mouvement de réconciliation et sa juxtaposition tendue à présent avec la mémoire officielle ouvrant un « espace alternatif » dans le sens foucaldien du terme propre à déstabiliser le régime hégémonique de la mémoire d'ANZAC.
Fichier principal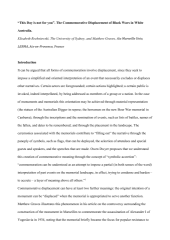 Commemorative Displacement clean 23 april.pdf (196.08 Ko)
Télécharger le fichier
Origin : Files produced by the author(s)