L'évolution morpho-climatique plio-quaternaire de la basse vallée de l'Omo (Ethiopie)
During the Pliocene, which was relatively wet, ends the elaboration of pediments on which plio-villafranchian formations settle when the climate becomes more and more dry. During the Middle and Upper Pleistocene, a relief of cuestas and faults escarpements develops from a lacustral abrasion surface cutting off the hard faulted plio-villafranchian formations. During the Upper Pleistocene-Holocene, after the deposit of the Kibish formation and of its lateral equivalents and after the formation of the Nakwas (Kuraz Range), the Omo river cuts its valley in spite of the nakurian transgression.
Au cours du Pliocène, qui fut relativement humide, se termine l'élaboration de pédiments sur lesquels se déposent des formations plio-villafranchiennes lorsque le climat devient de plus en plus sec. Au cours du Pléistocène moyen et supérieur, un relief de cuestas et d'escarpements de faille se développe à partir d'une surface d'abrasion lacustre découpant les formations plio-villafranchiennes fortement faillées. Au cours du Pléistocène supérieur-Holocène, après le dépôt de la formation Kibish et de son équivalent latéral et après la formation des Nakwas (Kuraz Range), la rivière Omo creuse sa vallée en dépit de la transgression nakurienne.
Fichier principal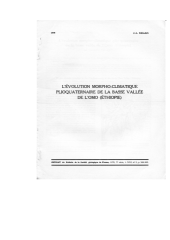 L'évolution morpho-climatique plioquaternaire de la basse vallée de l'Omo (Ethipie).pdf (32.4 Mo)
Télécharger le fichier
Origin : Files produced by the author(s)