Morphogenèse et préhistoire dans les Aurès (Algérie)
Recent researching in the Aurès mountains has allowed the discovery of 43 new prehistoric sites; from this, different stages of quaternary morphogenesis may be dated with greater precision. Thus, level VI (Morocco Moulouyan ?) slightly successed Lower Acheulean and pediment III (Morocco Tensiftian ?) is prior to Upper Paleolithic. Terrace I came after Capsien; in particular, its summit is constituted by deposits derived from a post-Neolithic soil erosion. The study of prehistoric tools shows that efficient eolisation and gelifraction occured between Upper Paleolithic and Epipaleolithic. Since Middle Paleolithic, the formation of calcareous crusts moves northwards. On the other hand, the southern cortex enriched with metallic oxides and the northern cacholong went on forming at least as far as Neolithic.
Des recherches récentes dans les Aurès ont permis la découverte de quarante-trois nouveaux sites préhistoriques qui permettent de dater plus précisément diverses étapes de la morphogenèse quaternaire. C'est ainsi que le niveau VI (= Moulouyen du Maroc ?) est un peu postérieur à l'Acheuléen inférieur, et que le glacis III (= Tensiftien du Maroc ?) est antérieur au Paléolithique supérieur. La terrasse I est postérieure au Capsien et, en particulier, son sommet est constitué par les dépôts d'une phase d'érosion des sols postérieure au Néolithique. L'étude des outils préhistoriques indique qu'une éolisation et une gélifraction efficaces se sont placées entre le Paléolithique supérieur et l'Epipaléolithique. Depuis le Paléolithique moyen, ls encroûtements calcaires se sont déplacés vers le Nord. En revanche, le cortex enrichi en oxydes métalliques, au Sud, et le cacholong, au Nord, ont continué à se former au moins jusqu'au Néolithique.
Fichier principal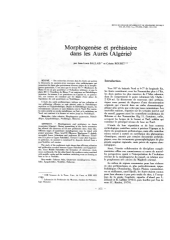 Morphogenèse et préhistoire dans les Aurès (Algérie).pdf (38.52 Mo)
Télécharger le fichier
Origin : Files produced by the author(s)