Evolution of a gully in lower Provence (France) : preliminary results (october 1991 - february 1996).
Processus d'évolution d'un ravin de Basse-Provence, le ravin de l'Aurigon (Beaurecueil, Bouches du Rhône) : étude préliminaire (octobre 1991 - février 1996)
The Aurigon gully is about one hundred meters long and its watershed is about one hectare. It is cut into Upper Cretaceous claystones on the southwestern piemont of the Sainte-Victoire mountain. In view of putting in an erosion measurement station, a preliminary equipment has been made using 42 pins. The goals of this equipment were to locally measure accumulation and erosion and to know the present day processes. The main methodological probleme has been instability of pins : we were obliged to use 275 of them. This instability is due to natural causes (pins washed away mainly in the main talwege or in the rills) and to human causes (pins pulled out by strollers). 54 series of measurements have been performed but the longest continuous series is only 51 measurements. The uncertainty about the true location of the lost pin and the disruption of claystones due to the driving in of the new pin reduce the validity of the results. On the whole, 2734 measurements have been performed that is to say 63.5 per pin. Field observations show that claystones are superficially altererd by several processes : hydroclasty and pellicular solifluction everywhere and gelifraction and pipkrakes gelifluction in winter mainly on the ubacs. This centimetric layer produces small dry screes that can be assisted by wind or by stollers passages. This thin layer is also removed by hydraulic processes during rains : very efficient splash and rill erosion. Rills are cut into the non altered claystones, except on ubacs. The most important part of erosion occurs during intense rainy phenomenons (september 1993)
Le ravin de l'Aurigon mesure à peine une centaine de mètres de long pour un bassin-versant d'environ 1 ha, entaillé dans les argilites du Crétacé supérieur, au pied sud-ouest de la montagne Sainte-Victoire. Dans la perspective d'y installer une station de mesure de l'érosion, un équipement préliminaire a été effectué avec 42 piquets. Il s'agissait d'apprécier, ponctuellement mais quantitativement, les phénomènes d'accumulation et d'ablation et, surtout, de mettre en évidence les processus actifs. Le principal problème méthodologique a été constitué par l'instabilité des piquets : il a fallu en utiliser 275 au total. Cette instabilité provient de causes naturelles (piquets emportés surtout par le ruissellement dans le talweg principal ou dans les rigoles) et de causes anthropiques : arrachage par les promeneurs. 54 séries de mesures ont été effectuées mais la plus longue série continue ne dépasse pas 51 mesures. L'incertitude sur l'emplacement exact du piquet à remplacer, ajoutée à la perturbation du matériau provoquée par l'enfoncement du nouveau piquet diminuent la validité des résultats. Au total, 2 734 mesures ont été effectuées, soit une moyenne de 63,5 par piquet. Les observations de terrain montrent que les argilites subissent une altération superficielle sous l'action de plusieurs processus : hydroclastie, solifluxion pelliculaire et, surtout sur l'ubac en hiver, gélifraction et gélifluxion de pipkrakes. L'éboulisation sèche de cette pellicule centimétrique, parfois assistée par le vent ou le passage des promeneurs, fonctionne en toute saison. C'est aussi cette pellicule qui est emportée par les processus hydriques lors des pluies : splash très actif, ruissellement concentré en rigoles qui atteignent les argilites non altérées, sauf sur l'ubac. L'essentiel de l'ablation se produit lors des phénomènes pluvieux intenses (septembre 1993).
Fichier principal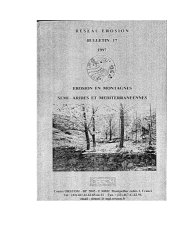 Processus d'évolution d'un ravin de Basse-Provence, le ravin de l'Aurigon.pdf (23.8 Mo)
Télécharger le fichier
Origin : Explicit agreement for this submission