The (in)hospitable city: a Syrian family's experience with housing and schooling in Marseilles
La ciudad (in)hospitalaria: itinerarios escolar y residencial de una familia siria en Marsella
La ville (in)hospitalière : parcours scolaire et résidentiel d'une famille syrienne à Marseille
Since 2015, the arrival of thousands of migrants in France has brought out the dysfunctions of an asylum system already at the saturation point. This situation, combined with budget cuts, has forced the state administrations responsible for the reception of migrants to prioritise the new populations. In such a context, how are the challenges related to their settlement in the city reflected locally? The experience of one recently arrived Syrian family in Marseilles has allowed us to explore the forms of access to the city in two areas: housing and schooling. Based on an ethnographic study, this article brings out the multiple obstacles created by the French administrative system. But the family's experience also demonstrates the existence of many actors coming to the assistance of migrants and brings out the hospitable side of centre-city Marseilles.
A partir del 2015, la llegada a Francia de miles de migrantes ha hecho evidente que su sistema de protección de los refugiados -de por sí saturado-, ya no funciona. En una época de recortes presupuestarios, esta situación ha llevado a los servicios administrativos a definir prioridades y a atender de manera diferenciada a las diversas categorías de beneficiarios. En este contexto, la pregunta que nos hacemos en el presente artículo es: ¿cómo se expresan localmente los problemas de asentamiento en la ciudad de los migrantes? A partir del ejemplo de la trayectoria de una familia siria recién llegada a Marsella, estudiamos su manera de insertarse en la ciudad, focalizándonos en su experiencia respecto a la vivienda y a la escolarización. Basado en un estudio etnográfico, este artículo documenta de qué manera el propio sistema administrativo francés obstaculiza el asentamiento de los migrantes. Sin embargo, el caso muestra también que existe una pluralidad de actores sociales dispuestos a movilizarse para apoyarlos, lo cual tiende a señalar que el centro de la ciudad de Marsella conserva su tradición hospitalaria.
Depuis 2015, l'arrivée de milliers de migrants en France a mis en exergue les dysfonctionnements d'un système d'asile déjà saturé. Couplée à des restrictions budgétaires, cette situation a contraint les administrations responsables de l'accueil à hiérarchiser les publics. Dans ce contexte, comment se traduisent localement les enjeux de leur installation dans la ville ? Le parcours d'une famille syrienne récemment arrivée à Marseille nous a permis d'appréhender les modalités d'accès à la ville à travers deux axes : l'hébergement et la scolarisation. Fondé sur une enquête ethnographique, cet article témoigne des multiples obstacles à l'installation engendrés par le système administratif français. Mais l'expérience de cette famille atteste également de l'existence d'une pluralité d'acteurs qui se mobilisent en faveur des migrants, et révèle la dimension hospitalière du centre-ville de Marseille.
Fichier principal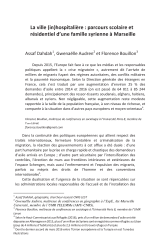 ESP_final_201118_PostPrint.pdf (1.5 Mo)
Télécharger le fichier
Origin : Files produced by the author(s)