La bande dessinée comme scène psychique : entre séquentialité et dé-mesure
This article seeks, within a psychopathological perspective, to account for the phenomenological, narrative, and formal characteristics of comics, which were proposed as artistic mediation as part of a therapeutic group organized in an adult day hospital. It was through Manuel's productions that the projective movements generated by the format of this medium, in terms of spatial and temporal inscriptions, could be grasped and could offer us valuable clinical information about the psychic reality of the patient. Comics acted as a support for facilitating the emergence of some psychic experiences, in terms of corporeality on the one hand, which can be grasped under the figure of the double that relies on the sequentiality of comics, and in terms of psychic temporality on the other hand, which allows itself to be apprehended through Manuel's productions as circular and infinitely rhythmic.
Cet article s'attache, dans une perspective psychopathologique, à rendre compte des spécificités phénoménologiques, formelles et narratives de la bande dessinée, qui a été proposée comme médiation artistique dans le cadre d'un groupe thérapeutique mené dans un hôpital de jour pour adultes. C'est par les productions de Manuel que des mouvements projectifs suscités par le format de ce média, en termes d'inscriptions spatiales et temporelles, ont pu se laisser saisir et nous offrir de précieuses indications cliniques concernant la réalité psychique de ce patient. La bande dessinée s'est constituée comme un support favorisant l'émergence de certains vécus psychiques, en termes de corporéité d'une part, saisissable ici sous la figure du double qui s'appuie sur la séquentialité de la bande dessinée, et en termes de temporalité psychique d'autre part, qui se laisse appréhendée dans les productions de Manuel comme circulaire et infiniment cadencée.
Fichier principal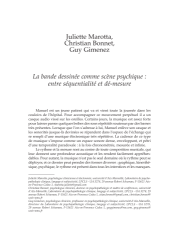 Marotta Bonnet Gimenez La bande dessinée c scène psychique.pdf (324.79 Ko)
Télécharger le fichier
Origin : Files produced by the author(s)