The Incredible Shrinking Man in Paul Auster's Report from the Interior: The Film and the Myths
The Incredible Shrinking Man, one of the two "written films" (quoted in Gonzalès 18) that Auster narrates in Report from the Interior, turns the book, as in The Book of Illusions, into a virtual screen, showing how influential the 1957 Universal Pictures production was to fabricate both Auster's auctorial identity and his various characters' identities. The Incredible Shrinking Man exclusively focuses on the physical metamorphosis of the protagonist who is submitted to a sudden, corporeal diminishment, and then on his rebirth at a higher state of consciousness: after dying to his old self, he struggles to survive, overcoming obstacles and trials as he is confined in the cellar of his own house. The plot undeniably recalls the process of regression, the so-called "art of hunger" that most Austerian protagonists experience. It also casts a light on the theme of the depletion of material resources which pervades Auster's fictions and conveys, in multiple ways, the idea of "a return to origins" as Mircea Eliade, for instance, analyzed it. Carey's initiatory and transformative adventure, which resembles a fairy tale, explains, at least partly, Auster's fascination for this genre which has always inspired him, and Auster's analysis of the film in Report from the Interior unveils his vision on initiation, on life and fiction, along with his obsession with enclosed spaces.
The Incredible Shrinking Man, l'un des deux « written films » qu'Auster raconte et analyse dans Report from the Interior, transforme le second volet de ce livre autobiographique en un écran virtuel et révèle combien ce film de 1957 a contribué à façonner son identité auctoriale et à fabriquer l'identité de nombre de ses personnages. Cette production d'Universal Pictures relate en premier lieu la métamorphose physique du personnage, soudain condamné à voir son corps rétrécir constamment, puis sa mort et sa renaissance métaphorique tandis qu'il essaie de survivre et d'affronter obstacles et épreuves, confiné dans sa propre cave devenue un territoire hostile. Le scénario illustre l'entreprise d'auto-effacement à laquelle bon nombre de personnages austériens font face, évoque le thème de l'amenuisement des ressources matérielles, omniprésent au sein de la fiction de l'auteur, et véhicule, de multiples façons, l'image « d'un retour aux origines » tel que Mircea Eliade, notamment, l'a analysé. L'aventure initiatique et transformatrice de Carey, qui s'apparente à l'intrigue classique d'un conte de fées, explique, du moins en partie, pourquoi Auster est fasciné par ce genre qu'il a souvent souligné comme l'une de ses influences majeures. Comme bien des contes de fées, le film dévoile en effet une vision du processus d'initiation, de la vie et du récit qu'Auster partage et rejoint son penchant pour les endroits clos.
Fichier principal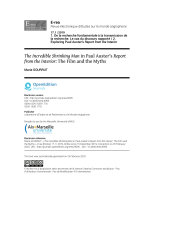 Incredible Shrinking Man-Austererea-9095.pdf (245.49 Ko)
Télécharger le fichier
Origin : Publisher files allowed on an open archive