La non-parentalité au XXIe siècle : étude des childfree
The legalization of contraception and abortion in the 1970s in France makes it possible for couples, for the first time, to think serenely about a sexually active life without children. Second wave feminism had squeezed out maternity issues to allow women to emancipate themselves from their unique status as potential mothers. Women in the 1980s who refused motherhood tended to explain this choice by wanting to pursue a career that would have been hampered by the arrival of children. In our article, we wish to question the lived experience of current generations claiming non-parenthood. To do this, we conducted in 2017 a study of 737 people declaring themselves "childfree" via a questionnaire distributed especially on social networks. Nearly 80% of those surveyed are women, and over half (59%) are under 29 years of age. Our article aims to provide an account of this study by bringing elements from the scientific literature on the subject. This work will shed light on the contemporary problems of chosen non parenthood through its permanencies (notably the stigmatization of women or the difficult access to sterilization) and its breaks (for example the use of social networks as a support space or claiming the absence of desire to be a parent as the main reason for this choice of life).
La légalisation de la contraception et de l'avortement dans les années 1970 en France permet pour la première fois aux couples de penser sereinement une vie commune sexuellement active sans enfant. Le féminisme de la deuxième vague avait évincé les questions de maternité pour permettre aux femmes de s'émanciper de leur unique statut de mères potentielles. Les femmes des années 1980 qui refusaient la maternité avaient donc tendance à expliquer ce choix par l'envie de mener une carrière, qui aurait été entravée par la venue d'enfants. Nous souhaitons, dans notre article, questionner le vécu des générations actuelles revendiquant la non-parentalité. Pour ce faire, nous avons réalisé en 2017 une étude portant sur 737 personnes se déclarant « childfree » via un questionnaire diffusé notamment sur les réseaux sociaux. Près de 80% des personnes ayant répondu à notre enquête sont des femmes, et plus de la moitié (59%) ont moins de 29 ans. Notre article vise donc à proposer un compte rendu de cette étude en y apportant des éléments issus de la littérature scientifique sur le sujet. Ce travail permettra d'éclairer les problématiques contemporaines de la nonparentalité choisie, via ses permanences (notamment la stigmatisation des femmes ou le difficile accès à la stérilisation) et ses ruptures (par exemple le recours aux réseaux sociaux comme espace d'entraide ou la revendication de l'absence de désir d'être parent comme raison principale de ce choix de vie).
Fichier principal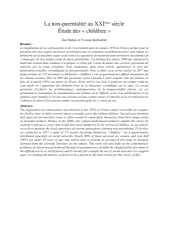 La non-parentalité au XXIe siècle, étude des childfree, Dubus, Knibiehler.pdf (583.56 Ko)
Télécharger le fichier
Origin : Publisher files allowed on an open archive