Managing old-age in transnational families. Comparative ethnographies Ecuador/Sudan
Gestionar la vejez en familias transnacionales. Etnografías comparativas Ecuador/Sudán
Gérer la vieillesse dans les familles transnationales. Ethnographies comparées Équateur/Soudan
Gestire la vecchiaia nelle famiglie transnazionali. Etnografie comparative Ecuador/Sudan
Migration and social protection are often a family project, whereby transnational ties span across multiple locations. To understand how migrants and their families organize social protection, it is important to collect data both in origin and destination countries, to observe multidirectional circulation of people and resources. A multi-sited matched-sample ethnography allows us to understand the logics and practices linked to the transnational social protection of migrants and their families. This article draws on data collected in two multi-sited ethnographies with two different migrant groups, Ecuadorians and Sudanese, in different European countries and with their families in the origin countries. The article focuses on the old-age arrangements of transnational families and shows how the specific contexts and sociocultural norms shape how these families organize their social protection across borders.
La migración y la protección social son a menudo un proyecto familiar, en el que los lazos transnacionales se extienden a través de múltiples localidades. Para comprender cómo los migrantes y sus familias organizan la protección social, es importante recopilar datos tanto en los países de origen como en los de destino, para observar la circulación multidireccional de personas y recursos. Una etnografía multi-localizada muestras pareadas nos permite comprender las lógicas y prácticas relacionadas con la protección social transnacional de los migrantes y sus familias. Este artículo se basa en datos recopilados en dos etnografías multi-localizadas, con dos grupos de migrantes diferentes, ecuatorianos y sudaneses, en diferentes países europeos y con sus familias en los países de origen. El artículo se centra en los planes para la vejez de las familias transnacionales y muestra cómo los específicos contextos y las normas socioculturales determinan cómo estas familias organizan su protección social a través de las fronteras.
La migration et la protection sociale sont souvent un projet familial. Pour comprendre comment les migrants et leurs familles organisent leur protection sociale, il faut collecter des données à la fois dans leurs pays d'origine et de destination, afin d'observer la circulation multidirectionnelle des personnes et des ressources. La méthodologie ethnographique multi-située avec un échantillon connecté nous permet de comprendre les logiques et pratiques liées à cette protection sociale transnationale. L'article s'appuie sur des données recueillies dans le cadre de deux études ethnographiques multi-situées auprès de deux populations de migrants (Équatoriens et Soudanais) dans plusieurs pays européens et de leurs familles dans les pays d'origine. Il montre comment les contextes spécifiques et les normes socioculturelles déterminent la manière dont ces familles organisent leur protection sociale au-delà des frontières, à partir de l'exemple de la gestion de la vieillesse.
La migrazione e la protezione sociale sono spesso un progetto familiare. Per capire come i migranti e le loro famiglie organizzano la loro protezione sociale, è necessario raccogliere dati sia nei loro paesi di origine che in quello di destinazione, al fine di osservare il flusso multidirezionale di persone e risorse. La metodologia etnografica multi-situata con un campione connesso ci permette di comprendere le logiche e le pratiche legate alla protezione sociale transnazionale. L'articolo si basa su dati raccolti in due studi etnografici multi-situati di due popolazioni migranti distinte, ecuadoriani e sudanesi, in diversi paesi europei e con le loro famiglie nei paesi di origine. Lo studio mostra come contesti specifici e norme socio-culturali determinano il modo in cui le famiglie organizzano la protezione sociale oltre i confini statali, focalizzandosi sul tema della gestione della vecchiaia.
Fichier principal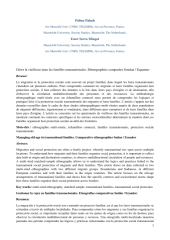 Palash et Serra.pdf (292.54 Ko)
Télécharger le fichier
Origin : Files produced by the author(s)