Nouvelle crise et vieux débats : la résurgence des difficultés de l'économie administrée sous la Covid-19
Austrian Economics and Public Choice are used to analyze the erratic administrative decision-making process during the Covid-19 crisis. Lockdowns policies had added a new page to the economic planning debate. The paper focus on the centralization/decentralization level of the decision and on the actors' incentives. We use an Hayekian perspective on knowledge spreading in order to explain the crucial needs of human interactions. Lockdowns had pushed social organization toward more autarkist schemes. These measures confront heavily with the core organization of open societies, creating worry economic consequences without any proved positive effect on public healthcare.
Les difficultés de la décision administrative durant la crise de la Covid-19 sont mises en perspective par les approches de l'École autrichienne et de l'analyse du Choix public. Cette crise et l'encadrement de l'économie par les mesures de confinement ajoutent une page originale au débat sur le calcul économique dans une économie planifiée. L'article propose une réflexion sur le niveau de la prise de décision (centralisation/décentralisation) et de la nécessaire implication des acteurs dans le processus. La diffusion de la connaissance est envisagée selon le point de vue hayékien, ce qui permet d'expliquer que les interactions humaines sont essentielles au fonctionnement des sociétés. Le retour partiel à l'autarcie provoqué par les mesures de confinement heurte de manière frontale l'organisation des sociétés ouvertes avec des conséquences émergentes préoccupantes sans nécessairement avoir des résultats probants sur le plan sanitaire.
Fichier principal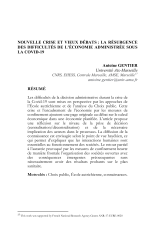 Gentier_Nouvelle crise et vieux débats, la résurgence des difficultés de l'économie administrée sous la Covid-19.pdf (302.1 Ko)
Télécharger le fichier
Origin : Files produced by the author(s)