Création du monde et poétique de l'oeuvre : l'imagerie hexamérale dans les manuscrits de l'Ovide moralisé
The recycling of the traditional iconographic repertoire of the Creation of the world gives rise, in the manuscripts of the moralized Ovid, to a wide variety of visual devices with very different intentions. Placed at the beginning of the manuscripts, the images of the foundation of the world and of the In principio occupy a strategic visual position, the analysis of which allows us to understand the literary uses of the moralized Ovid. The semantic plasticity of the hexameral images allows for a considerable variation in the discourse on the hermeneutics and poetics of the moralized Ovid, at times bending the reading towards the fabulous narrative, at other times towards the biblical commentary. Thus, hexameral iconography, always inventive, oscillates between serious pastiche of biblical or scholarly manuscript decorations and visual innovation, as in the manuscripts Lyon 742 and BnF fr 871, where the invention of the first Prometheus in the history of medieval art reorients the representations of scholarly poetry by rooting them in the ancient mythological heritage.
Le recyclage du répertoire iconographique traditionnel de la Création du monde donne lieu, dans les manuscrits de l'Ovide moralisé, à des dispositifs visuels très variés aux intentions fort éloignées les unes des autres. Placées en début de manuscrits, les images de fondation du monde et de l'In principio occupent une place visuelle stratégique dont l'analyse permet de comprendre les usages littéraires de l'Ovide moralisé. Infléchissant la lecture tantôt vers le récit fabuleux, tantôt vers le commentaire biblique, la plasticité sémantique des images hexamérales permet de faire varier considérablement les discours sur l'herméneutique et la poétique de l'Ovide moralisé. Ainsi, l'iconographie hexamérale, toujours inventive, oscille entre pastiche sérieux des décorations de manuscrits bibliques ou savants et innovation visuelle, comme dans les manuscrits Lyon 742 et BnF fr 871 où l'invention du premier Prométhée dans l'histoire de l'art médiéval réoriente les représentations de la poésie savante en les enracinant dans l'héritage mythologique antique.
Fichier principal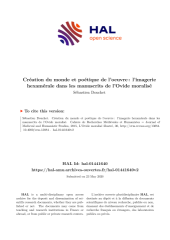 crm-13884_merged-pages-supprimées-1.pdf (6.55 Mo)
Télécharger le fichier
Origin : Publisher files allowed on an open archive