CARACTERISER LA SITUATION FINANCIERE D'UNE COLLECTIVITE Consensus et divergences autour des objectifs et méthodes d'analyse financière, et de la réalité des risques financiers
This paper proposes a reflection on the financial analysis of French local governments, by focusing on the reality of financial risks, the objectives to be set, the information available and the methods used. The originality of the approach is to compare the theoretical literature with the vision and methods of practitioners through the use of qualitative interviews. It shows the weakness of solvency risks, and identifies the citizen as the ultimate risk bearer. It points to the importance of studying self financing capacity and the rooms for manoeuvre. Finally, it discusses the limitations of accounting information and the impact on the methods used: few analysis of the balance sheet, difficulties in understanding the financial situation of the local government on its entire scope. The use of ratios seems to be the most appropriate method to meet the objectives. This paper proposes a discussion on the most relevant ones to characterize the financial situation of local governments.
Cette communication propose une réflexion autour de l'analyse financière des collectivités locales françaises, en s'intéressant à la réalité des risques financiers encourus, aux objectifs qui doivent être fixés, à l'information disponible et aux méthodes utilisées. L'originalité de l'approche est de confronter la littérature théorique à la vision et aux méthodes des praticiens grâce à une série d'entretiens qualitatifs. Ce papier éclaire ainsi la faiblesse des risques de solvabilité, et identifie le citoyen comme porteur final, si ce n'est unique, des risques. Il pointe l'importance de l'étude de l'autofinancement et des marges de manœuvre des collectivités. Enfin, il examine les limites de l'information comptable et ses conséquences sur les méthodes utilisées : peu d'analyse du bilan et de la situation patrimoniale malgré les évolutions comptables, difficultés à appréhender la situation financière sur l'ensemble du périmètre d'une collectivité. L'utilisation de ratios semble être la méthode la plus pertinente pour répondre aux objectifs fixés. Le papier propose une discussion sur les ratios les plus pertinents pour éclairer la situation financière des collectivités.
Fichier principal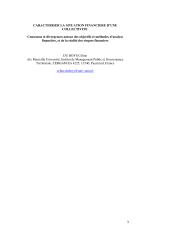 Article AIRMAP Céline du Boys.pdf (730.1 Ko)
Télécharger le fichier
Origin : Files produced by the author(s)