Travertinbilding, -zerfall und anthropogene Überprägung
Travertinisation, detritism and human influence in fès (Morocco)
Travertinisation, Détristisme et Anthropisation à Fès (Maroc)
Während des Holozäns bildete sich der dritte Travertinkomplex in Fes. Die Gründung der Medina der Idrissiden (VIII-IX Jhdt.) fürhrte zur Verschüttung des Travertinsystems. Mit dem Aufbau von Fes Jdid (XIII Jhdt.) kam es zur Wiederfreilegung der älteren Ablagerungen, zum Abtrag der verbackenen Partien und zur Akkumulation von Kolluvium. Mit der Gründung der modern Stadt (XX Jhdt.) setzte vor allem chemische Verunreinigung ein.
During Holocene, the third travertine formation was formed in Fès. The Idrissides Medina foundation (VIIIth-IXth c.) produced the silting up of the travertineous system. Fès Jdidi foundation (XIIIth c.) provoked the breaking up of ancient travertine accumulations, the disappearrance of concretionning and the increase in colluviation. New town (XXth c.) mainly prompted chemical pollution.
Pendant l'Holocène, la troisième formation travertineuse s'accumule à Fès. La fondation de la Médina des Idrissides (VIIIème-IXème s.) provoque l'envasement du système travertineux. La création de Fès Jdid (XIIIème s.) a pour, conséquence le démantèlement des anciennes ,accumulations, la disparition des concrétionnements et l'accroissement des colluvions. La création de la ville nouvelle, au XXème siècle, produit surtout une pollution chimique.
Fichier principal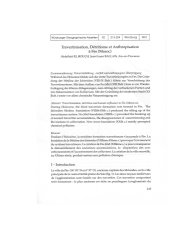 Travertinisation à Fès.pdf (19.08 Mo)
Télécharger le fichier
Origin : Explicit agreement for this submission