Paysage désertique et géoarchéologie d'un géosystème littoral (VIIIème siècles avant J.-C. _ XVIIIème siècles, Atlas atlantique, Maroc)
The diachronic analysis of aerial photographs concerning the coastal geosystem of Essaouira points out a quick morphological evolution such as in around thirty years, except the states of surface, general form, that of the dunes as well as their distribution were changed in a consistent manner. Three notions underline environmental correlations : the geosystem, the desertification and the modes of anthropisation. Here on stereoscope Bosch and Lomb in CEREGE, the mapping is carried out from aerial photographs IGN in 50 000th, mission n° 17 of August 10th 1953, in the field of the visible, for the first one, and from aerial photographs IFN in 20 000th, mission n° 852 of December 1984, in the field of infrared, for the second. It points out a ternary partition of the space dynamics of the dune massif : general geomorphology, types and spatial distribution of sand dunes forms. In this ternary partition, it is added the urban expansion which leads to an evolution of contact with the city. Except the Phoenician graffiti of "Mogador", the first written sources take back up from Pline the Ancient.. The presence of much more afforested areas than today is certified. In XIth century, Al-Bakri represented the site of Amogdul as a very sure anchoring. It is therefore at least from the XIth century when a demographic threshold is crossed. Processes leading to desertification appear from the beginning of the XIXth century. They are inserted into geosystemic relations between three interfaces : link between climatic stages and anthropic stages, relations man-environment and biotic and abiotic space mutations. Nature and culture both are contained in the three notions of starting and register in the centre of the geosystem.
Trois concepts mettent en relief les interactions paysagères dans la région d'Essaouira : le géosystème, la désertification et les modes d'anthropisation. Effectuée sur stéréoscopes Bosch et Lomb au CEREGE, la cartographie des dunes est réalisée à partir de clichés aériens IGN au 50 000e, mission n° 17 du 10 août 1953 dans le domaine du visible pour la première et de clichés IFN au 20 000e, mission n° 852 de décembre 1984 dans le domaine de l'infrarouge pour la seconde. Elle indique une partition ternaire de la dynamique spatiale du massif dunaire, morphologie générale, types de formes dunaires et répartition des dunes. A cette partition ternaire s'ajoute l'expansion urbaine qui entraine une évolution du contact avec la ville. Exceptés les graffitis phéniciens de "Mogador", les premières sources écrites remontent à Pline l'Ancien. La présence d'espaces beaucoup plus boisés qu'aujourd'hui est attestée. Au XIème siècle, Al-Bakr décrit le site d'Amogdul comme un mouillage très sûr. C'est donc au moins à partir du XIème siècle qu'un seuil démographique est franchi. Les processus menant à la désertification apparaissent dès le début du XIXème siècle. Ils sont intégrés aux relations géosystémiques entre trois interfaces : l'articulation entre phases climatiques et phases anthropiques, les relations hommes-milieu et les mutations spatiales biotiques et abiotiques. Nature et culture sont toutes deux contenues dans les trois notions de départ et s'inscrivent au centre du géosystème.
Fichier principal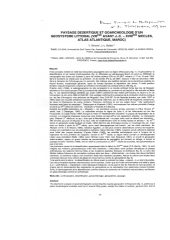 Paysage désertique et géoarchéologie.pdf (56.24 Mo)
Télécharger le fichier
Origin : Explicit agreement for this submission