The Principle of Electoral Equality in View of Electoral Redistricting. Comparative Analysis of French and Russian Law.
Le principe d'égalité devant le suffrage à l'occasion du découpage électoral. Étude comparative de droit français et russe.
In 1881, Léon Gambetta denounced the partition of French territory in electoral constituencies as "a shattered mirror in which France could not recognize itself". The majoritarian system's significant flaw, as the latter necessarily implies the division of the national territory in electoral constituencies, is therefore gerrymandering, an arbitrary redistricting aiming at securing an advantage for the incumbent majority. Since it accounts for a subversion of majority's opinion expression, it requires a legal framework constraining an authority competent for redistricting process. In France and in Russia, the principle of electoral equality between citizens was hence constitutionalized. The present research paper in comparative law analyzes the sense and the impact of this principle, its relevance in light of the theory of representation as well as its eventual restrictions. The paper's aim is to question the efficiency of the principle of electoral equality between citizens as an arm against gerrymandering. Moreover, the paper thoroughly examines different approaches to the implementation of the principle of electoral equality between citizens as well as their recent evolution. Its implementation is the object of political, administrative and judicial review. Finally, the paper aims at comparative evaluation of the legal frameworks in France and in Russia.
En 1881, Léon Gambetta dénonçait la partition de la France en circonscriptions conçue comme un « miroir brisé où la France n'aurait pas reconnu sa propre image ». Le défaut politique majeur du scrutin majoritaire, impliquant nécessairement le découpage du territoire national en circonscriptions, serait ainsi le gerrymandering : une délimitation arbitraire en vue de procurer un avantage à la majorité sortante. Face à cette possibilité de subversion de la volonté nationale, un encadrement juridique de la marge d'action de l'autorité chargée du découpage électoral s'impose. En France et en Russie, le principe d'égalité devant le suffrage, imposant la valeur égale des voix de chaque citoyen, a été ainsi constitutionnalisé. La présente étude de droit comparé se propose d'analyser le sens et la portée de ce principe, ses relations avec la théorie de la représentation, ainsi que les dérogations qui lui sont apportées. Elle se donne l'objectif de discuter l'efficacité du principe d'égalité devant le suffrage comme moyen de lutte contre les délimitations arbitraires. L'analyse effectuée propose également, l'examen exhaustif des diverses approches à la mise en oeuvre du principe d'égalité devant le suffrage ainsi que leurs évolutions récentes. Cette mise en oeuvre se déroule dans le cadre du contrôle des autorités politiques, administratives et juridictionnelles. Une évaluation comparative de deux dispositifs analysés est enfin proposée.
Fichier principal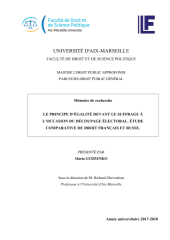 Mémoire_Gudzenko.pdf (2.45 Mo)
Télécharger le fichier
Origin : Files produced by the author(s)