Comparative optimism, so useful
Comparative Optimism results from a comparison between the self and another person and consists of a self-serving judgment about the future. Most recent studies show that targets who exhibit a comparative optimistic outlook are judged positively but are also rated as more useful than desirable. In this paper, three experiments examined the social utility and desirability of comparative optimism. They also addressed whether this social acceptance is dependent on the context determined by the predominance of the comparative optimistic response. Results showed that displaying more comparative optimism is less socially accepted on the social desirability than on the social utility dimension. Moreover, the type of context influenced the judgment on the social desirability dimension more than on the social utility dimension. Specifically, a target who expresses strong comparative optimism is generally judged to be useful rather than desirable, except when the target is different from the group of other targets presented.
L'optimisme comparatif résulte de la comparaison entre la perception de son propre avenir et celle que l'on a au sujet de l'avenir des autres. Il correspond à un jugement auto- favorable. La plupart des études montre que les cibles qui expriment de l'optimisme comparatif sont positivement perçues. D'autres montrent également qu'elles sont jugées socialement plus utiles que désirables. Dans cet article, trois expérimentations ont examiné la désirabilité et l'utilité sociales de l'expression d'optimisme compara- tif. L'objectif était aussi d'étudier dans quelle mesure l'acceptation sociale de l'optimisme comparatif est dépendante du contexte, défini ici par la prédominance d'un certain niveau d'optimisme exprimé. Les résultats ont montré qu'exprimer de l'optimisme compa- ratif est socialement moins accepté sur la dimension de désirabilité sociale que sur celle d'utilité sociale. Par ailleurs, le contexte détermine davantage le jugement de désirabilité que celui d'utilité. Concrètement, une cible qui exprime un fort optimisme compa- ratif est généralement jugée plus utile socialement que désirable, excepté lorsqu'elle est différente de l'ensemble des autres cibles présen- tées.
Fichier principal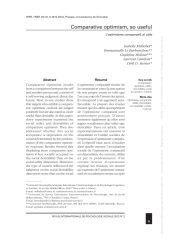 Comparative optimism.pdf (573.56 Ko)
Télécharger le fichier
Origin : Publisher files allowed on an open archive