Le souci est, c'est que cette modification se fait à l'insu de l'utilisateur
In French, specificational utterances containing an under-specified noun are likely to take a non-prototypical form in which the verb être [be] is realized twice: le problème est c'est que… [lit. the problem is it is that…]. Corpora indicate that although infrequent, such utterances are sufficiently well attested - especially with certain nouns such as preuve, fait, problème [proof, fact, issue] - to allow us to consider them as fully grammatical constructions rather than mere disfluencies. In terms of syntactic structure, we suggest describing them as constructions that amalgamate two distinct values of the verb être [be]: firstly, the value of a copula which licenses some temporal and apectual variation (est, était, étant [is, was, being]); secondly, the invariable form c'est [it is] which is described as a kind of auxiliary verb one would find in clefts or pseudo-clefts constructions.
Les énoncés spécificationnels à nom sous-spécifié du français peuvent se réaliser sous une forme non prototypique qui réalise deux fois le verbe être : "le problème est c'est…" Les données indiquent que ces constructions sont peu fréquentes ; elles semblent toutefois suffisamment bien attestées, notamment avec certains lexèmes, pour qu'on puisse y voir une structure grammaticale et non la simple manifestation d'« accidents » de performance. Au plan grammatical, nous avons proposé de les analyser comme des structures qui superposent deux emplois distincts du verbe être : d'abord, un emploi copulatif dans lequel la forme verbale a la particularité de pouvoir varier en temps (est, était, étant…) ; en second lieu, la forme c'est, à laquelle nous accordons la valeur d'un auxiliaire de dispositif, comme on en trouverait dans les énoncés clivés ou pseudoclivés. La réalisation de tels énoncés résulte d'une tension entre deux stratégies antagonistes : celle visant à conserver la forme grammaticale la plus canonique dans laquelle le nom sous-spécifié et le verbe copulatif sont strictement contigus ; et celle visant à souligner la stratification informationnelle des énoncés en topic/focus par l'usage du pronom de reprise (c'). De manière incidente, l'examen de notre corpus nous a conduit à vérifier que la forme c'est des structure pseudo-clivées et la forme (c')est des constructions spécificationnelles à nom sous-spécifié ne pouvaient pas être assimilées dans un emploi « copulatif » uniforme mais gagnaient au contraire à être distinguées.
Fichier principal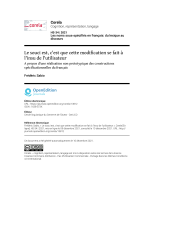 2021 corela- constructions spécificationnelles.pdf (919.15 Ko)
Télécharger le fichier
Origin : Publisher files allowed on an open archive